You can use vinegar to clean hardwood floors. Vinegar is inexpensive and non toxic. It's the frugal homemaker's best-kept secret for cleaning the home and can be used in many ways.
Keep reading »
Browse Topics in Floor Cleaning Tips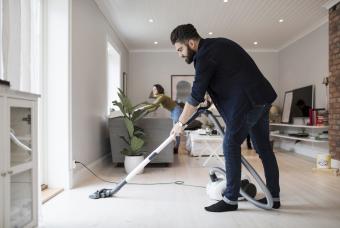 Cleaning floors can be a never-ending battle. Not only are their different types of floors but they take different treatments to get them clean. Dive into floor cleaners, techniques for different floors along with tips and tricks to keep your floors spotless.
Stain Removal and Cleaning for Different Surfaces
Not every surface is going to take the same treatment to clean it or remove stains. You need to have an arsenal of methods to ensure that all your surfaces gleam.
Shiny Wood Floors
While wood floors don't need too much maintenance, they do take a bit of tender loving care to keep them clean and polished. From homemade floor cleaner to keeping dog hair off your floors, you can find a treasure trove of expert tips and advice. Did you spill candle wax on your floor? Not a problem, you can learn how to get it up without hurting your finish. Check tips on how to steam clean your hardwood as well.
Cleaning Carpets
Even with the most consistent of care, carpets will get dirty and dingy from wear. Learn how to properly clean your carpets with chemicals you can find at home like Borax. Instructions for making a homemade cleaner can help you to save money and make your carpet look luxurious again. You might even learn how to get out that obnoxious Kool Aid stain.
Flawless Rugs
You don't need to throw away your shag rug when it gets stained or dirty. With a little bit of elbow grease and a lot of determination, you can have it looking new again. Get tips for cleaning sheepskin rugs in addition to taking your fringe on your oriental rug back to fabulous.
Detailing Tile
Whether you have those stubborn ceramic stains, worn looking terrazzo or dingy slate, cleaning your tile can be made easier with the right tools. That doesn't mean that you need to run out to the store and get an arm full of chemicals either. Sometimes a look in your pantry for a bit of vinegar can do the trick. The experts have your back when the cleaning gets tough.
Laminate Floors
Not to be forgotten laminate floors need a bit of lovin' too. Knowing the proper way to clean your laminate or how to remove stains from vinyl flooring can make your flooring disaster just a little hiccup. And don't wreck your prefect Pergo floors with an abrasive cleaner, learn how to use specialized cleaners to bring your flooring back to life.
Types of Cleaners
All cleaners aren't universal. Chemical cleaners like ammonia that might work on Pergo would spell disaster for Mannington hardwood floors. Knowing the right cleaner to use and when to use it is invaluable information. It isn't all about cleaners either. You can't be a housekeeping god without the right tool set. Mechanics need their wrenches and sockets while cleaners need their microfiber mops and steamers.
Steam Cleaners
Steam cleaners use heat and water to pull even the grossest of grim out of the tiniest of crevices. Find out if you want to get a Shark steamer or even a Euro Pro Cleaner. Get the facts can ensure that you're getting the most for you hard earned money.
Vacuum Options
Not all vacuums are the same. If you've ever seen a commercial or had a salesman stop at your house, you know this to be true. But who makes the best vacuum? Well that is a matter of personal preference. Some people will swear by their Dyson while others wouldn't live without their Hoover. Your vacuum necessity will also vary based on what you use it for. Those for quickly cleaning carpets will be a bit different than those that must quickly suck up pet hair.
Solutions for Floor Cleaning Problems
Whether you're looking for everyday cleaning tips, need help with unique problems, or are wondering how to choose the right portable steam cleaner or manual floor cleaner, chances are you'll find useful information that meets your needs each time you visit the site. Now get the answer to the universal question of how to a red wine stain out of your carpet!