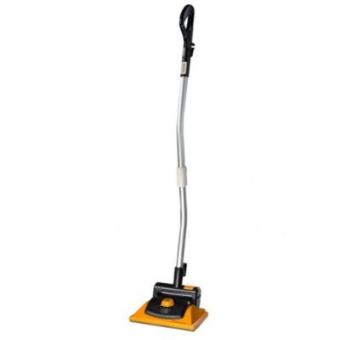 If you would like a floor cleaning method that is friendly to the environment, does not use harsh chemicals and leaves your floors clean and sanitized, a Haan steam mop may be just the product for you.
Steam Mops from the Haan Corporation
The Haan Corporation steam mops, also called floor sanitizers, are powerful, lightweight and made to last. Any of the Haan floor sanitizers can be used to clean any floor with a sealed, hard surface including:
Vinyl
Laminate
Tile
Stone
The Haan Steam Mop Product Line
The following features apply to all of the Haan steam floor sanitizers:
Lightweight - weighing less than four pounds with a full reservoir of water
Turns tap water into powerful steam, heated in excess of 212 degrees Fahrenheit, in less than three minutes
The amount of steam needed to clean for twenty minutes only takes 800 watts of power to create
The steam is delivered to the cleaning pads through fifteen jet streams
One tankful of water provides approximately twenty minutes of steam cleaning
Effectively kills 99.9 percent of bacteria and germs
Uses patented ultra microfiber pads that are super absorbent
Manufactured from materials that are heavy duty and engineered for durability and long lasting performance
A safety feature clips the power cord away from the cleaning path
Steam Mop Models
The Haan product line includes four different models.
The FS-20 Steam Cleaning Floor Sanitizer was the first of the Haan floor steam sanitizers. This model features a telescopic locking handle and a non-slip ergonomic grip.
The SI-35 Slim & Light Series Floor Cleaning Sanitizer has a slim design and low steam head, making this steam mop perfect for reaching under cabinets furniture and appliances.
The FS-30 Steam Cleaning Floor Sanitizer features an ergonomic design with a handle that pivots to reach under furniture, appliances and cabinets.
The FS-50 Steam Cleaning Floor Sanitizer the newest of the Haan floor steam sanitizers and features:

A locking telescoping handle
A non-slip pistol grip handle
An ergonomic design making cleaning easier on your back
A stainless steel tank and anti-bacterial silver nano lining that dries the floor instantly and reduces friction
Other Products in the Haan Steam Cleaning Line
The Haan Corporation also manufacturers several other steam cleaning products.
Steam vacuums - combination vacuum and steam cleaning floor sanitizer

SC-50 Canister Steam Vacuum
SV-60 Steam Vacuum

Personal care products - garment steamers for eliminating wrinkles in clothing

GS-60 Convertible Steamer and Sanitizer
GS-20 Personal Garment Steamer
GS-30 Professional Sanitizing Garment Steamer
Multi purpose steam cleaners - includes handheld steamers and combination cleaners

HS-10 Handheld Steam Cleaner
HS-20 Personal Handheld Steamer
MS-30 Multi-Purpose Steamer
The Benefits of Cleaning with Steam
There are many benefits to using a steam mop for cleaning floors.
A green way to clean, steam cleaning uses only water to kill germs and bacteria on contact. This natural cleaning method eliminates the need for harsh chemicals. Many household cleaning products contain chemicals that are harmful to people, pets and the environment. Although a floor cleaned with chemicals looks clean, often a toxic residue is left on the clean surface.
Cleaning with steam loosens deep down dirt and grime.
Steam kills germs, dust mites and bacteria including e-coli, salmonella and listeria.
Cleaning with steam is cost effective.
Steam does not stain clothing.
Where to Buy Haan Steam Floor Cleaners
Haan products are available from select retail outlets both on and off line including the following:
Amazon
Macys
Bed Bath and Beyond
Kohls
The Home Depot
Best Yet
QVC
Bon Ton
---
Using a Haan steam mop naturally cleans and sanitizes your floors. It eliminates the need for chemical cleaners, resulting in a healthier home environment. A Haan steam floor sanitizer is perfect for everyday cleaning or your deep cleaning needs.