How Do I Clean Sliding Shower Doors?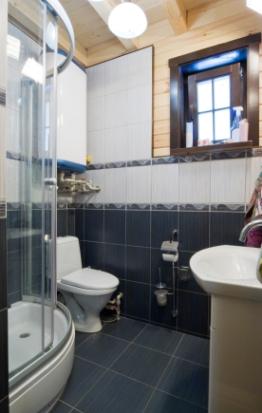 Sliding shower doors can be a hassle to clean. Not only do they collect hard-to-clean soap scum and dirt, but the opaque material used to make most shower doors seems to make the dirt more visible. Since you can't just replace your shower doors the way you can replace a shower curtain, you might as well learn how to adequately clean the door.
The Parts to a Sliding Shower Door
This type of door is made up of four tracks that allow the doors to slide and two separate shower doors. It's not only the doors that can be difficult to clean, it is the bottom tracks that cause more problems. Soapy water runs into the tracks from the door and pools there. People don't normally think about drying the tracks out after a shower so the puddle of water can sit in the track eventually causing slippery soap scum or even mold and mildew. As dirt collects in the bottom track it can cause the tracks to become damaged and prevent the door from sliding easily.
Keep in mind that sliding shower doors often need to be replaced after 12 to 15 years of use. They are not made to last forever, so if you have one over 10 years old, you might want to consider replacing it.
Cleaning Sliding Shower Doors
Cleaning sliding shower doors should be done in steps, first the inside and then the outside. You can use a homemade glass cleaner like white vinegar and water, or a bleach solution. Whichever you use the ratio should be about three parts warm water to one part cleaner.
Supplies You Will Need
The supplies you will need to clean the shower are:
Two buckets
Cleaner
Squeegee
Sponges
Rags or old towels
Empty, clean spray bottle
Magic eraser
Old toothbrush
Steps to a Clean Shower Door
Wear old clothes in case you get cleaner on them.
Make a bucket of cleaner and place it inside the shower.
Fill another bucket with clean, warm water.
Open windows, doors, and turn on any ventilation fans to keep the air as fresh as possible. This is especially true if you are using bleach.
Put on gloves to protect your hands.
Put some of the undiluted white vinegar or bleach in a spray bottle.
Spray any mold or mildew with the cleaner in the spray bottle. Allow to stand while you work.
Get inside the shower
Dip the magic eraser in water and scrub the inside of the doors with it until all the soap scum is gone. If you would rather not use a magic eraser then use white vinegar and a rag.
Rinse the doors with clear water and remove the excess water with the squeegee.
Step out of the shower and repeat the process on the outside.
Use the vinegar and a cloth to clean and shine the door handles and chrome trim. Polish to a shine with a soft cloth.
Now, using the toothbrush, scrub the shower track. The mildew and soap scum should be loosened and will come up with a little effort. Continue to scrub until the track is clean.
Rinse with clean water and dry with a dry rag.
Keeping the Shower Doors Clean
Once you've put in the effort to clean your shower doors thoroughly, you'll want to keep them consistently clean. There are a few things you can do to help keep this type of door clean after an initial deep cleaning.
Wipe out the tracks after your shower. It only takes a minute and it can help keep the mildew away. It is also a good way to make sure that the doors continue to slide easily.
Check the caulking around the tracks to make sure that there were small spaces left for the water to drain. If there don't seem to be, make a few notches with an X-Acto knife to solve the problem.
Follow a regular cleaning schedule. Cleaning shower doors on a weekly basis is generally a good idea.
Run a bar of paraffin wax over the track when it is clean to help it resist dirt and damage.
Use a squeegee to get the water off your shower doors after each shower.
Benefits of Cleaning Your Shower Doors
A sparkling clean shower door will help make the whole bathroom look clean. With just a little time and effort you can transform that dingy door to a sparkling one, and you'll feel so much better about your bathroom after you do.