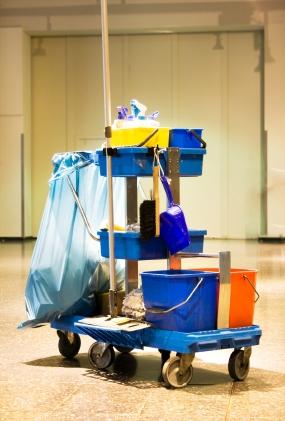 Wondering how much to charge for office cleaning may mean you are preparing to open your own cleaning business or shopping for the services of one. Either way, understanding how much charges tend to be, and why, will help you evaluate the costs associated with a cleaning service.
Adjusting How Much to Charge for Office Cleaning
Competing companies will provide you with their rates if you request them. However, remember as with any cleaning service, office cleaners charge not only by the duty, but also by the square footage that will have to be cleaned. When speaking to a customer service representative at the cleaning company, be sure to give them the specifics on what and how much you need cleaned. Also, ask for an itemized list as well as any specials and deals they are offering.
When negotiating a cleaning contract be sure that it includes:
Frequency - how often they will clean
Time frame - when the facility will be cleaned
Expected duties - i.e. emptying trash as well as vacuuming, etc
Cleaning products - if you have specific demands on the types of cleaning products
Supplies - detail who must provide and restock the paper supplies (toilet paper, napkins, etc)
Standards - expectations for the service, i.e. it is best to be as detailed as possible so there is no room for error
Bonded - Verify that the janitors/maids are bonded to protect you against risk of loss
Typical Costs
While costs will vary based on all the factors listed above, the following typical costs are averaged from multiple janitorial and office cleaning services:
$25 to $40 per visit to a small office (less than 1200 to 2000 square feet) to empty the trash, light vacuuming and dusting each visit

Price increases to between $40 and $65 per visit if the facility hosts one or two small bathrooms to include restocking paper products, mopping floor, wiping down surfaces and cleaning toilet

Larger offices (2100 square feet and larger) will incur charges per square foot. The lowest charge began at $0.50 per square foot for labor-intensive services such as scrubbing or waxing floors, cleaning kitchens, vacuuming, etc. The price per square foot decreases as the size of the office increases. However, remember these charges run per visit, so if the cleaning crew comes in nightly, the cost is incurred each night.
Time of day may also affect the cost of the cleaning. Most offices employ a cleaning service to come in after normal business hours to clean. After hours means no clients or customers and fewer employees to impede or be disturbed by the cleaning crew. If an office wishes to have a daytime cleaning staff on duty as well then the cost will increase for the service. Be sure to let the cleaning service if you expect this option.
Hiring a Service
Before you sign any contracts and after you've received an initial estimate, a representative of the cleaning company you are interested in will need to tour your facilities. Be sure that whoever is negotiating the contract is on hand for the tour in order to answer any questions the representative may have and to ask your own.
The tour will allow the representative to confirm size, number of duties and more in order to give him or her, a better idea of the client's expectations and facilities. The representative will go over their catalog of services and make recommendations based on the tour.
The representative visit is usually a great way to decide between two or more cleaning services if you are on the fence about a decision.
---
How much to charge for office cleaning depends on a great many factors.