Pictures of Sewing Room Organization Ideas
Sewing Room Organization
Sewing room organization assists you in managing your materials, your tasks and your space. You will need to maximize your storage and work space.
About Sewing Room Organization
Common items you need to organize:
Fabric
Sewing Machine
Cutting Table
Tools (Cutting board, tape measure, scissors, thread)
Patterns
Dress Mannequins
Sewing Cart
Buy Now"
A sewing cart is one organizational tool that allows you to minimize the footprint your sewing space takes up when not in use. The sewing machine tucks down into the cart and can be raised up when needed. The cart features built in storage for accessories and more.
Click the picture to purchase the item from Amazon.
Sewing Amoire
Buy Now"
An armoire is another option for storing your sewing equipment, tools and supplies. The armoire may occupy a corner of the room and while taller than it is long, it takes up an even smaller footprint than the cart. An armoire is also an ideal for sewing room organization if your sewing room shares space with other crafts or in your bedroom.
Click the picture to purchase the item from Amazon.
Storing Fabric
Depending on what you use your sewing room for (clothing, quilting, etc.) fabric storage is an issue. Quilters love to pick up fat quarters and keep yards of fabric in varying sizes on hand. Fabric is susceptible to dust, dirt and scents around them. Fabric is best stored in a closet, armoire or wardrobe. You can store a fabric in plastic drawers, but it's not recommended. Plastic doesn't breathe and fabric can become musty in the closed, warm atmosphere.
Organizing Your Fabric
A large selection of fabric also means you need to choose a method of organization for the fabric. A common method is to organize by color, keeping like with like. You may also organize by type of fabric (broadcloth, cotton, felt) or by theme - Christmas fabrics with Christmas, children's fabrics, patterns, etc.
Hand Stitches
Hand stitching is a fundamental part of sewing. You handstitch buttons back on clothing, repair rips in stuffed animals and fasten the edging onto a quilt. Stitching of any type requires needles, pins, threads and more.
Buttons and Threads
You can collect a large number of buttons and threads in your sewing room. The wide variety of buttons is necessary not only for making clothes, but repairing them. A good selection of threads is useful whether you quilt or make clothes, your threads need to match your fabrics, the more fabric you have, the more thread you do. Thread and buttons are more delicate than fabric and require careful storage to avoid hunting for hours for the right size button or tangled threads that are hard to untie.
Sewing Baskets
Buy Now"
Sewing baskets are a taste of the old fashion, yet very practical way to store commonly used accessories. The basket is portable, easily accessible and easily stylish. Sewing baskets let you take your sewing room organization wherever you go.
Click the picture to purchase the item from Amazon.
Sewing Box Organization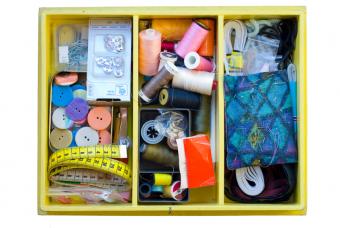 Sewing box space is at a premium, so it is common to store those items you use for most sewing projects:
Commonly colored thread
Tape measure
Pins
Needles
Scissors
You can swap out colors of thread and other items as needed.
Grab and Go Sewing Box
Buy Now"
Another option is this great grab and go kit. You can store a large number of buttons, threads and other accessories in a drop out kit. This idea owes a lot to a fishing or tool kit. Seamstresses and quilters need to be able to get to their tools without one handed more often than not, so this a good design, particularly if you keep all of your equipment together.
Click the picture to purchase the item from Amazon.
Getting Started
Buy Now"
Sewing room organization begins somewhere. This beginner's kit is ideal for a first time sewer and gives you an idea of the space they will need to store these tools in. For most people who sew, organizing your sewing room is an ongoing project. If you have a small amount of space, learn more about efficient space organization: