Winter is finally out of here, and spring is starting to sprout. As the sun starts shining through your window, you might begin to notice the dirt and grime you missed in the dreary winter season. Well, it's a good thing spring cleaning is here. Get answers to what is spring cleaning and why we spring clean, and discover helpful tips for getting it done without stress.
What Is Spring Cleaning?
So what exactly is spring cleaning? In the most basic sense, spring cleaning is simply a complete deep clean of all the rooms in your house. This goes beyond a standard clean. You are going to sweep, mop, scrub, and dust from your ceilings to your floors in every room of your home. And, it's not just inside your house; you want to freshen up the exterior of the house and your car as well. All those nooks and crannies you avoid, well, it's time to get them dirt-free. It's also a great time to declutter your life and get rid of the things you don't need.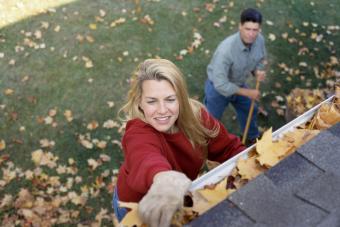 National Spring Cleaning Week
Spring cleaning has almost become ritualized in America. As the sun starts to shine brighter through your windows, you'll start seeing ads on TV about cleaning your house. Much like the winter springing to life with new growth and bright colors, you want to brighten up your home too. In fact, the ISSA - The Worldwide Cleaning Industry Association lists the national cleaning week at the end of March. In addition to cleaning houses, people use this week to help clean up their neighborhoods.
Origins of Spring Cleaning
So now the big question. Why do we spring clean? Spring cleaning has more than just natural roots; it has religious ones. In fact, there are a few different customs linked to why people spring clean.
Jewish Custom
The Jewish religion celebrates Passover during March or April. During this time, it's customary for Jewish people to thoroughly clean their house before Passover. This cleaning is done to make sure all the chametz, yeast bread, is removed from the home, which is forbidden on Passover.
Chinese Custom
Spring cleaning isn't just part of Jewish history; it's also part of Chinese. For a fresh start to the new year, Chinese household will clean their houses and yards to drive away the dust of the past year, along with bad luck and misfortune.
Iran Custom
Much like the Chinese, Iranian custom is also to clean the house from top to bottom before the new year in March. This allows spring to arrive with a fresh start.
Spring Cleaning and Human Nature
While there are religious ties to spring cleaning, it's also part of human nature. Less sunlight in the winter can be depressing and not keep you motivated to clean. So, dust can quickly build up. When the sun starts to shine through your windows for more hours in the day, you see everything missed in your winter blues. With those sun vibes driving you, cleaning is bound to happen.
Spring Cleaning Checklists
With the what and why out of the way, it's time to look at the how. Spring cleaning is a huge undertaking. And while you're riding that beautiful sun high, you'll eventually putter out without a plan. While it's great to get all your spring cleaning accomplished in a week or a day, you need to be honest-plan for spring cleaning by making an easy-to-follow checklist. You also need to keep your pets in mind when it comes to spring cleaning. Make sure all your cleaners are safe and healthy.
Spring Cleaning Tips
When it comes to spring cleaning, remember, don't stress. It's all about out with the old and in with the new. Make your cleaning adventure as easy as possible with a few tips.
Make a schedule. Daily to-do lists make it so you can check things off and feel accomplished.
Don't overextend yourself. If you only have 15 minutes a day for spring cleaning, roll with it.
Go room by room.
Get rid of clutter. Donate or trash items you don't need to make cleaning easier later.
Make it fun by adding music and getting the family involved.
Use multi-purpose products. You can use cleaners like white vinegar, baking soda, and peroxide to clean and disinfect multiple rooms.
Getting in the Mood for Spring Cleaning
Spring cleaning often feels like a compulsion. As you start to watch the world around you come back to life, you feel the need to make your house match. Roll with it and get to cleaning.