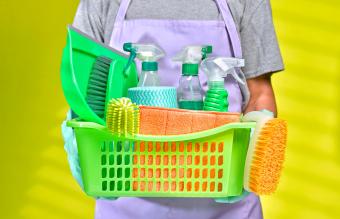 Explore some of the best natural cleaning products on the market. While many products state they are natural, they aren't all as green as they claim to be. Find out some of the tested and true best natural cleaning products you know will work for you.
Best Natural Cleaning Products DIY
Some of the best products in your cleaning arsenal aren't found in your local grocery store's cleaning aisle. These might be in your pantry instead. Explore some of the best DIY natural cleaning products.
Schmidt's Cleaning Vinegar
You all know that white vinegar can do wonders for getting rid of dirt and grime. Cleaning vinegar amps this up by having 2% more acetic acid concentration. While it might not seem like much, this can revolutionize your cleaning game. While cleaning vinegar can be found in all different types of brands, Schmidt's Cleaning Vinegar provides a pleasant mellow scent and spray bottle for about $8. In addition to being vegan and cruelty-free, it's plant-based and uses essential oils to cover up the harsh vinegar scent. But, cleaning vinegar can't be used on all surfaces.
McKesson Hydrogen Peroxide
Another natural cleaner many housekeepers swear by is hydrogen peroxide. Simply H2O2, McKesson Hydrogen Peroxide is a natural disinfectant for anything from toilets to door handles. Hydrogen peroxide can be used by itself or as part of a DIY cleaner. Amazon reviewers gave hydrogen peroxide 4.7 stars for about $13 for a gallon. However, you have to be aware that hydrogen peroxide is a bleaching agent.
Best All Natural Cleaning Products
While DIYers might create their own products using natural ingredients, you don't have to. Some of the best all-natural cleaners on the market can do everything you need and more. Many of these products are also cruelty free and biodegradable.
Puracy Natural Multi-Surface Cleaner
While Puracy Natural Surface Cleaner comes with a hefty price tag of $20, it's an all-purpose cleaner you can use in any room of the house. A plant-based formula, Puracy is gentle on the skin but hard on dirt and grime. While Puracy did receive 4.7 stars on Amazon, some reviewers found the smell too strong.
Ecos All-Purpose Cleaner
Parsley is more than just a garnish when it comes to Ecos All-Purpose Cleaner. A Safer Choice by the EPA and cruelty-free, Ecos is a plant-based cleaner for all over the home. The cleanser is noted for not having dyes, parabens, and phosphates. This natural cleaner comes with a price tag of $3 for 22 fl. oz.
Common Good All-Purpose Cleaner
Common Good All-Purpose Cleaner uses mild ingredients and no harsh chemicals but still cuts through grease and grime. How? It uses citric acid and essential oils along with plant-based ingredients to easily clean non-porous surfaces. This gentle formula had a 91% allergen-free rating from Skin Safe for about $9.
Best Natural Cleaning Products for the Bathroom
Cleaning your bathroom is never fun. You might have a natural toilet cleaner recipe that's your go-to. However, you don't need to create your own homemade shower cleaner to get your bathroom sparkling naturally. Instead, you can find some of the best natural cleaners on the market for your bathroom.
Simple Green Naturals Bathroom Cleaner
Are you looking for a natural bathroom cleaner to cut through the grime? Reach for Simple Green Naturals Bathroom Cleaner to remove your soap scum. This natural formula uses plant-based cleaners and sugar-based acid to remove dirt, film, and scum. At $6, Simple Green received 4.5 on Home Depot. Reviewers noted the scent of this cleaner is strong.
Ecover Multi-Action Spray
If you have sensitive skin, Ecover might just be the best bathroom cleaner for you. A natural and organic cleaner, Ecover is plant-based and uses natural scents, so it's not overpowering. It also has a fragrance-free line of cleaners for those with smell sensitivities. The multi-action spray is also convenient for cleaning and suitable for septics. In addition to having 4.7 stars on Amazon, Ecover had a price tag of $20. However, some users noted the scent was strong for this cleaner.
Better Life Kitchen and Bath Scrubber
If you're looking for more of a scrubber for your bathroom, you want to reach for Better Life Kitchen and Bathroom Scrubber. This versatile natural cleaner is great for soap scum and grease. At $6 for a 16 oz bottle, Better Life had 5-star reviews on Clean Happens. But, it's essential to be aware this cleaner can make your bathtub and floors slippery.
Attitude Bathroom Cleaner
Natural cleaners for tough stains and limescale can be hard to come by. However, Attitude Bathroom Cleaner uses a natural formula with saponin that's tough on stains. It's not only hypoallergenic, but it's also vegan and cruelty-free. You can get a 27 fl. oz. bottle of this cleaner for $5. Additionally, Safe Household Cleaner gave this cleaner a solid 4 stars. While it's an excellent cleaner, it does have a strong fragrance.
Eco-Me Tub & Tile Cleaner
Eco-Me Tub & Tile Cleaner can quickly remove mildew stains through powerful plant-based cleaners. This cleaner does not use harsh abrasives, bleach, or phosphates for cleaning power. One of the main ingredients of this cleaner is vinegar along with essential oils. At $13 for 32 oz, Eco-Me has a strong scent.
Using the Best Natural Cleaning Products
You don't have to use harsh chemicals to clean your home. A little baking soda, white vinegar, and hydrogen peroxide can go a long way. However, if you want the ease of cleaning everything in one bottle, then reach for some of the best all-natural cleaning products for multiple surfaces.