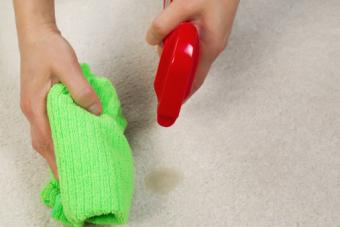 Pets quickly become part of the family, but the messes they make can be challenging to clean up. Whether you choose a DIY cleaning solution or purchase a product, it's important to use a formula that's designed to tackle tough stains and odors.
DIY Cleaners
DIY cleaners are a frugal way to keep pet stains from damaging your furniture, carpet, and other home surfaces.
Basic DIY Pet Stain Remover
If you noticed the stain immediately and it's relatively small in size, this easy DIY cleaner is a great choice.
Supplies
¼ teaspoon clear dishwashing detergent
1 cup room temperature water
Spray bottle
2-4 cleaning cloths
Dull butter knife
Directions
If needed, remove solid residue using a dull butter knife or a similar blunt object.
Blot the stain with a clean cloth to absorb as much moisture as possible.
Mix the dishwashing detergent and water in a spray bottle, shaking gently to combine. Spray the stain.
Blot with a clean, damp cloth. If needed, repeat the spraying and blotting process until the stain has disappeared.
Remover With Vinegar and Baking Soda
Vinegar and baking soda work well for removing many pet stains, including old stains that you didn't notice right away. This combination is also quite handy, so you probably have everything you need in your pantry already.
Supplies
Vinegar
Baking soda
Old dinner plate
Directions
Pour enough vinegar on the carpet to wet the stain thoroughly
Add a small amount of baking soda on the stain. As the cleaner does its magic, you'll see your baking soda develop a yellowish tint. There's no rubbing, scrubbing, or blotting needed.
Cover the spot with an old dinner plate. Let the cleaner work for a day or two, then vacuum the area thoroughly.
Citrus Enzyme Cleaner
For the toughest stains, a citrus enzyme cleaner is the best choice. This DIY version is effective, but requires a bit of patience since you must wait three months between mixing the ingredients and using the cleaner.
Supplies
7 tablespoons brown sugar
1 liter water
1 ½ cups lemon and orange peels or scraps
Clear container with lid
Funnel
Spray bottle
Directions
Use your funnel to add 7 tablespoons of brown sugar to your container.
Dump in your citrus peels and scraps.
Add the water. Seal the container, then shake to mix.
Loosen your cap slightly. This step is very important because the enzymes will release gas as they develop. If the container is sealed tightly, it will explode.
Place your container in a safe location where it won't be disturbed. Let the mixture combine for three months, then transfer to a spray bottle for use.
Purchased Cleaners
If you don't have the time or desire to make your own cleaning projects, there are several excellent options that are available to purchase.
Kids 'N' Pets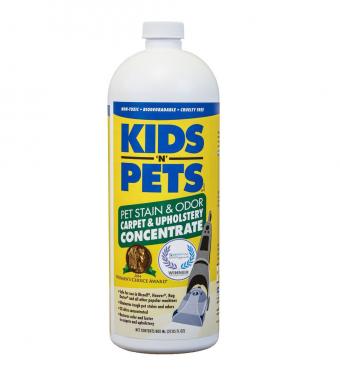 The Kids 'N' Pets brand began in 2001, after a father of two realized that his children and his pets created a lot of the same cleaning challenges. He developed a cleaner designed to get rid of tough stains and odors, including urine, feces, and vomit. Kids 'N' Pets is safe for a wide range of surfaces, including carpet, mattresses, upholstery, clothing, walls, and car seats. It's non-toxic, cruelty-free, and biodegradable.
Kids 'N' Pets has received Women's Choice Awards in 2014, 2015, and 2016 in recognition of its effectiveness. You can purchase the product at Walmart and Home Depot stores nationwide as well as online at various retailers. The Kids 'N' Pets website has a locator tool that provides additional information.
FiZZion Pet Stain & Odor Remover
An eco-friendly cleaner sold with a reusable spray bottle to prevent waste, FiZZion Pet Stain & Odor Remover is designed to work instantly on contact using a patented CO2 cleaning process. All you need to do is spray and wipe to watch the stain disappear.
Awards FiZZion's line of pet cleaning products have won include the Cat Fancy Editors Choice Award in 2010 and it is a Modern Dog Green Product Pick. FiZZion Pet Stain & Odor Remover can be purchased from several online retailers, as well as directly from the FiZZion website.
Bubba's Pet Stain & Odor Terminator
Bubba's Pet Stain & Odor Terminator is a top ranked cleaning product on Amazon.com and is recommended by Best Pet Gear. In the comment section of Amazon, carpet cleaning professionals frequently recommended it as an everyday stain remover.
This product will handle pet urine and waste as well as organic stains such as blood. It is designed to remove the odor completely instead of simply masking it, which will keep pets from re-marking the area at a later date.
Making Memories Without Worrying About the Mess
Once you've decided what cleanser works best for you, make sure to always keep a bottle on hand so you're prepared when your pet has an accident. With an effective cleaner by your side, you can focus on making special memories with your pet instead of worrying about the mess in your home.