Most people know Windex as a premium blue glass cleaner, but does Windex also kill germs? If you look on the official Windex website, you'll see they offer 12 different products. Learn which ones can kill things like bacteria or viruses, and which won't kill any germs.
Windex Disinfectant Multi-Surface Cleaner Kills Germs
Windex says their Disinfectant Multi-Surface Cleaner, which looks yellow in the bottle, kills 99.9% of germs, including viruses and bacteria, on hard, non-porous surfaces. This product is considered a registered product by the United States by the Environmental Protection Agency (EPA). You can also find Windex Disinfectant Multi-Surface Cleaner With Glade Rainshower, which appears green in the bottle. This version kills all the same germs and is used in the same way as the yellow multi-surface cleaner. Both versions are ammonia-free.
Germs Killed By Windex Disinfectant Multi-Surface Cleaners
The main active ingredient in this cleaner is L. Lactic Acid, which is antimicrobial. When used according to the directions, this spray cleaner kills 99.9% of:
Staphylococcus aureus (Staph)
Salmonella enterica (Salmonella)
Pseudomonas aeruginosa (Pseudomonas)
Streptococcus pyogenes (Strep)
Enterobacter aerogenes (Enterobacter)
Escherichia coli (E. coli)
Campylobacter jejuni
Listeria monocytogenes (Listeria)
Rhinovirus Type 37 (common cold)
Influenza A2/Hong Kong (H3N2) (flu)
Influenza B
How to Use Windex Disinfectant Multi-Surface Cleaners to Sanitize
You can use this cleaner on bathroom surfaces, mirrors, glass doors, kitchen tables, glass stove tops, metal sinks, and countertops. It should not be used on wood, very hot or very cold surfaces, or porous surfaces. To sanitize with this Windex cleaner:
Pre-clean the area so it's free of dirt.
Spray the surface until it is totally wet.
Let the spray sit on the surface for ten minutes.
Use a dry paper towel or lint-free clean cloth to wipe the surface.
If the surface regularly comes into contact with food, you must rinse it with water after sanitizing.
Places You Don't Want to Use This Cleaner
Windex Disinfectant Multi-Surface Cleaners only kill germs on non-porous surfaces. If air can easily get through the material, it's considered porous. Examples of porous surfaces the cleaners won't kill germs on include:
Drywall
Wallpaper
Carpeting
Fabric
Acoustic ceiling tiles
Unfinished wood
Granite
Laminate flooring
Windex Products That Don't Kill Germs
Other Windex products include outdoor cleaners and a variety of household cleaners, none of which are disinfectants. No Windex products claim to kill mold either. You can find more information about the active ingredients in these cleaners on the SC Johnson website.
Windex Original Glass Cleaner
The original Windex product is that bright blue cleaner you've probably used to clean windows and mirrors for years. Windex Original Glass Cleaner does not claim to have any disinfecting properties. It is simply used to remove dirt and streaks from glass surfaces so they shine. You can use this product on any glass surface, including glass stove tops.
Windex Ammonia Free Glass Cleaner
For people who don't want to have the smell of ammonia in their home, Windex Ammonia Free Glass Cleaner is a suitable alternative. This spray cleaner that appears light blue in the bottle is used for the same purposes as the original Windex glass cleaner. The purpose of this cleaner is to remove dirt and streaks from glass surfaces.
Windex Vinegar Glass Cleaner
Windex's Vinegar Glass Cleaner uses vinegar as a main ingredient and provides another ammonia-free option for cleaning glass surfaces. This Windex product appears clear in the bottle. While some studies indicate vinegar can help kill germs, the concentration in this cleaner is not high enough to make that claim, and vinegar is not a registered disinfectant with the EPA.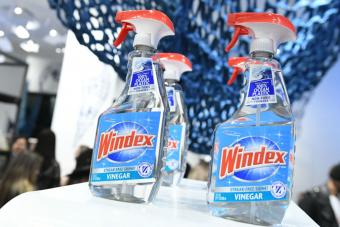 Windex Foaming Glass Cleaner
Windex now offers a foaming glass cleaner that comes in an aerosol can to help the cleaner stick to vertical surfaces without dripping. It can be used on all the same surfaces as their other glass cleaners, except glass stove tops, and contains ammonia. It is not a disinfectant.
Windex Multi-Surface Cleaner With Lavender
Just like Windex glass cleaners are meant to shine glass, Windex Multi-Surface Cleaner With Lavender is meant to shine other surfaces around your home. This product doesn't contain ammonia or any disinfectants and appears pink in the bottle. It was made to remove fingerprints, smudges, and dirt from surfaces like countertops, bathroom surfaces, mirrors, and tables and make them shine.
Windex Original Wipes
Windex Original Wipes are meant to be used in place of Windex Original Glass Cleaner. They are not used for disinfecting, but are used to clean glass surfaces. You should not use these wipes on your skin, wood surfaces, or any eating utensils like plates, cups, or silverware.
Windex Electronic Wipes
If you want to clean electronics, you can use Windex Electronic Wipes. These wipes do contain ammonia and do not have any disinfecting ingredients. The purpose of the electronic wipes is to remove dust and fingerprints from electronic screens. You can use them on smartphones, tablets, ereaders, laptops, cameras, and TVs. Windex recommends you turn off and unplug any electronic device before you clean it with a wipe.
Choose Your Windex Wisely
To remember which types of Windex actually kill germs, think "Yellow and Green make germs scream!" because the yellow and green-colored Windex Disinfectant Multi-Surface Cleaners can disinfect. Many of your electronic screens and household surfaces can be cleaned with Windex products that have "disinfectant" in the title. But, keep in mind, these sprays won't work on all surfaces and they don't kill every germ living in your environment. When used with other disinfecting methods, certain Windex products can help you make your home safer from germs.