Nori is the product that you never knew you needed - until now. Created by two 20-something women and inspired by hair straightening technology, Nori is a revolutionary steam iron designed to make your life easier. Find out more about Nori, how to use it, and why it'll change the way you think about ironing.
Ironing Reimagined
In a world where cell phones and video games constantly change, why has the iron stayed the same since its inception in the 1880s? This was a question that the founders of Nori set out to answer. These two women looked at the male-dominated consumer hardware spectrum and found that it could use an upgrade. That upgrade is Nori.
Nori, which is iron spelled backwards, is an innovative steam iron. Using the best of DIY ironing hacks and hair straightener technology, this hybrid steamer and press takes the work out of ironing and saves you time and money on costly dry cleaning bills. This isn't your grandmother's iron or even your parents' iron; it's an iron that anyone can use with ease. Now, see what it's like to open a Nori.
Nori: A Present to Yourself
From the minute Nori arrives on your porch, it feels like you are opening a present just for yourself. The baby blue packaging is simple in its beauty, and practical with a magnetic closure. When you pull open the box that can double as a storage container, you get the steamer and detailed instructions. If you opt to purchase Nori's Fabric Facial for $15, you will receive their recommended signature steam solution.
The Iron/Steamer
When you look at the device, you can instantly see that Nori went through two years of development with industry professionals and advisors, numerous prototypes, and thousands of regulatory tests. Why? Because it takes the best parts of a hair straighter, steamer, and iron and creates a no-nonsense ironing system. This steam iron features all the simplicity of a flat iron with the functionality of an iron/steamer. The elongated arm is thoughtfully created to help you get those hard-to-reach areas of your blouse or jacket. Additionally, the sleek design of Nori makes it perfect for a suitcase or carry-on.
Make Your Life Simple With Nori
So what does Nori have to offer? Endless possibilities. Nori was designed with you in mind. So, it makes life easy for working professionals, busy moms, or anyone who wants wrinkle-free clothes without all the hassle of a traditional iron and ironing board setup. Just plug it in and let it heat up, and within a few minutes your clothing looks like it just came from the dry cleaners. How does Nori do it? Through these ingenious features.
Elongated arms: Hair straightener design reduces the need for an ironing board
Two aluminum plates: Iron the back and front of garments simultaneously
6 fabric settings: Simple settings for any fabric you have
Steam reservoir: Meticulous steam release technology
Pointed tip: Makes flawless creases and irons hard to reach areas
You get the versatility of a space-saving steamer that is easy to use and simple to store.
Step-by-Step Instructions for Ironing With Nori
With your Nori at the ready, it's time to get ironing. Here's how:
Pull out the steam plug on the arm, and fill the steamer compartment with Nori's Fabric Facial or distilled water.

Plug in your Nori.

Hit the power button.

Use the fabric button to select your type of fabric (poly, silk, wool, denim, cotton, or linen).

Wait until your selection stops blinking. Take this time to spray your fabric with the Fabric Facial.

If you would like to use the optional steam feature, please hit the steam button on the side of the device for a continuous release of steam.

Position the material between the Nori plates.

Press the arms together.

Slowly move down the fabric.
It's literally that simple. If you have a cotton blend or your laundry tag calls for low or medium heat, choose the lowest recommended heat setting. For example, for a cotton/poly blend, use the polyester setting. If in doubt, just choose steam.
Tips and Tricks to Get the Most Out of Nori
The key to Nori is that it's easy. But it's also revolutionizing the laundry game. So, to get the most out of your Nori journey, you can try a few simple tricks.
Lay clothing on a flat surface to press, making sure the material is taut before you start.

Use steam for thicker fabrics; lift vertically after every few swipes.

For silk, use steam while hanging the garment.

Use the narrow tip for small spaces, like between buttons.

Use slow, steady swipes to get the most wrinkles out in one go.

Use the tip to create nice creases on shirt collars.

Iron horizontally or use steam to de-wrinkle hard-to-reach areas like the backs of shirts.
Nori vs. Standard Iron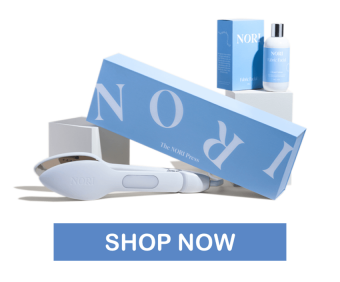 An iron is an iron, right? Wrong! With Nori, no ironing board is needed, and it saves time since the two plates work to iron both sides of the material at one time. Additionally, you can use the Nori while hanging clothing on a hanger or while it's on a flat surface, which is perfect for when you are ironing on the fly. Standard irons only offer you one option.
Plus, if you have a silk shirt and cotton pants that got wadded up in your closet or suitcase, Nori is all you need. It can steam the silk shirt and press the pants. It's quite literally a one-stop de-wrinkling shop, which means you save money and space. And who doesn't like that? Especially if you live in a small space.
Designed With the Customer in Mind
Since the creators of Nori care about their product, it is sold directly to consumers through Nori.co for $120. This way, it can grow based on consumer wants and needs. So a simple click gets Nori to your door in no time flat without stepping a foot outside.
Innovative Ironing
The iron is an archaic invention in desperate need of an update, especially when it comes to cleaning scorches on it. Nori has given it one. This revolutionary iron is a game-changer in your laundry room. It cuts out an ironing board, steamer, and iron, combining them all in one sleek, easy-to-store design. What was once a dreaded chore is now a satisfying experience - thank you, Nori!